British Butterflies captured on Video by Steve Cobbold
I'm sure you don't really wan't to read anything more about me or tolerance - so take a quick break and have a look at some butterflies instead!
---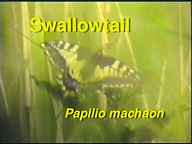 ---
One of my interests outside of work is British Butterflies - collecting and capturing them on Video. For this I use a standard Sharp VHS/C Camcorder with colour viewfinder, and then download the clips for editing and cataloguing in VideoDesk ( Irlam Instruments) on my Acorn StrongARM RISC-PC at home. These can then be made into VHS quality movies with titles and sound for recording onto standard video tape and playing on a TV. I can also make stills from the video clips and print them using an Epson Photoreal printer at 1440 dpi.

Click on the above thumbnail image [123Kb JPEG file] for an example montage of 36 different species (NB: the quality of this picture has been deliberately limited to reduce download times).
---
Steve Cobbold - September 1998